Hi, everyone.
I'm very VERY sorry for the long delay. You see, I've been having a lot of personal issues in life. It has gotten even worse when my computer's harddrive suddenly broke down and I've lost all of my data, everything including the game.
I got my laptop fixed again and my game is slowly recovering. As a result, the game is entirely re-written. The OCs from different authors are still in, but I need their contacts about this news. So if any of you, the ones who submitted their OCs into this game, are reading this, please contact me as soon as possible.
Because of the game is rewritten, everything you know about this game from last year is gone. So forget what I've said before.
The story involves a boy named Kyuu Renjo (From Detective Academy Q) who stumbles on a mysterious storybook that sends him to the book's world where every fictional characters from the real world are real. Such as game characters (Sonic, Mario, Solid Snake), anime characters (Goku, Ichigo, Haruhi Suzumiya), and cartoon characters (Mickey Mouse, Donald Duck, Bugs Bunny, Daffy Duck). Kyuu, since he's from the real world, is able to recognized these characters and befriended with them.
At first, Kyuu enjoys his stay in this world but he soon begins to feel it's wrong to live in a 'fantasy world'. Not only that, he discovers this world is cursed by a mysterious plague that it slowly killing Rakenzarn. After giving some thoughts, he decides to return home and thinks that by restoring this world, he might be able to go home. And so, he sets out on a journey to purify Rakenzarn with the aid of the characters he befriended.
Along the way, Kyuu will face several familiar enemies such as Disney villain Pete, the twisted Takano Miyo, the megalomaniacal Doctor Octopus, the mad scientist Dr. Eggman, the tyrant Frieza and his brother Cooler, the fallen hero Sephiroth, the original villain group the Cosmo Ten, and the mysterious Saint Lords.
However, he is completely unaware of the book's dark history and his connection within, which may endanger his very existence.
-
Characters
Spoiler:
Highlight to view
-Main Protagonists-
Kyuu


- The unusual main protagonist of the game from Detective Academy Q (also called Detective School Q or Tantei Gakuen Q) who found the titular storybook. He's a bit hyperactive, socially awkward, and childish at times, but he's actually very intelligent once he gets serious. Unfortunately, he is very weak due to his lack of experience in combat, so he needs to rely on his new friends while training to become stronger. To make up for his painful weakness, his deductive skills are absolutely amazing for a junior detective and he has a hidden talent of leadership. After finding it wrong to live in a world of fantasy, he goes on a journey to find the way back home while solving the mysteries surrounding the storybook.
Kite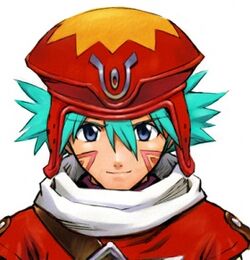 - The deuteragonist of the game and the main character from the original .hack games. As the very first character who joins Kyuu, Kite acts the second-in-command of the party. While Kite is a potential leader, he strongly supports Kyuu sharing a brotherly friendship and usually acts as the voice of reason. Kite is both strong, fast, and capable to use a few basic spells, which makes him one of the most valuable allies. His weapon is a pair of blades.
Dark Magician Girl


- The tritagonist of the game and one of the famous characters from Yu-Gi-Oh! (she is not related to the anime or manga series) A magician-in-training, she's the second to join Kyuu's party. She is a Duel Monster spirit and gets constantly mistaken as a human girl due to her appearance. She shares another strong friendship with Kyuu and Kite. Although, unlike Kite, she gets very annoyed by Kyuu's childish antics. She knows a lot about magic spells though she's still learning them and her capability as a Black Mage makes her another valuable ally. Her weapon is a magic wand.
Sakura Kasugano



- The hyperactive, fight-loving character from Street Fighter. She is one of the main characters and also one of the first to join the party. Sakura recently moved into the Cyril Region where she makes friends with Kite and the others. She is known as the 'Ditto Fighter' due to her ability to use skills that most fighters use such as a Hadouken though it's self-taught. Her main weapon is her fists, but she can also use some gauntlets and brass knuckles.
Kanata Saionji



- The 'handsome, pretty boy' and main male lead of his series, Daa! Daa! Daa! (or also known as UFO Baby). He is quite popular with the girls due to his good looks and attitude. Not only does he excel in his studies, he is also good at sports. Apparently, he comes from a line of Buddhist monks until he moves into the Cyril Region where he befriends Kite and the others. He may initially appear as a Deadpan Snarker, but deep down, he's a kind, caring person. Among the first members of the party, Kanata is the 'jack-of-all-trades,' as he masters the basic sword skills (his main weapon is a katana.)
Nina Sakura



- a kind-hearted, very peppy, and perky character from Ultra Maniac. She is actually a magic girl (or a witch) who comes from a kingdom in another region. However, she proves to be a failure as her magic usually backfires save for a few white magic spells. As a result, she's sent to the Nutsy Guild as part of her training to improve her magic. She'll do absolutely anything to ensure that her friends are happy, even if it means suffering a little grief herself. Nina is the healer of the group. Her main weapon is a magic staff.
Noel Vermillion



- A shy, clumsy girl from Blazblue who tends to get worked up over the smallest things. She can be socially awkward at times, but this has actually served as an endearing trait. She quickly becomes close friends with the first members of the party, but it turns out that she already knows Kite and Kanon. In fact, the three of them are close friends. She is the 'Glass Cannon' of the group as a professional gunslinger capable of delivering critical damages on the enemies. Her weapon is a pair of handguns.
Kanon



- A mysterious young boy from Umineko no Naku Koro Ni (means When the Seagulls Cry). He appears to be sullen and quiet, usually doing his work in silence. He doesn't talk much either though he does voices his opinion during a discussion whenever he wants to. Apparently, he knows Kite and Noel for a long before meeting Kyuu and the others. There have been rumors that they're close friends as well. Kanon is supposedly the strongest among the first members of the brigade, known as the 'Lightning Bruiser.' His main weapons are a two-handed sword and a latex scimitar.
Screenshots
Spoiler:
Highlight to view
Cutscene
-/-
Exploration
Day and Night system (credits to Blizzard)

At night

-/-
Battle
Features:
About 78 party members
Storyline mixing with classic adventure, mystery, comedy, intension, and sometimes disturbing
Character Alignment (Lawful, Chaotic, and Neutral)
Story arcs, those for the main story and optional (some characters have their own story arcs)
Monsters both original and those from different series (such as Monster Hunter)
"Team Strike" system
I haven't finished the game due to lack of resources (sprites, still pictures for cutscenes, and battle pics), but I managed to finish Version 1.1, containing more chapters and gameplay. Here's the link if you like to try it out:
https://www.dropbox.com/s/thzde8lge5oqgnx/Rakenzarn%20Tales%20vers.%201....